Organic revenue growth was 4.3%, primarily driven by 12.3% organic growth in the Service business. Earnings (EBITDA before special items) came to 38.0 mEUR in Q2 2023, compared to 34.5 mEUR, in Q2 2022.
Reinhard Mayer, CFO of Nilfisk comments on the results:
"We delivered a solid set of results with an organic growth of 4.3% and an EBITDA margin before special items of 13.7% in the second quarter of 2023. The Americas region provided the strongest improvement in revenue due to the Mexican production challenges solved and easing of the supply constraints. In our Americas plants, output grew steadily in the quarter."
Easing of supply chain challenges translates into revenue
At the end of the second quarter 2023, the order book remained elevated. A significant proportion of the order book was related to our business in the Americas region, primarily the industrial range. Manufacturing output in the Americas improved slightly over Q1 2023, and we continued to invest in further capacity expansion for our large Floorcare equipment in Q2.
"The order book remained elevated in Q2, primarily for our industrial range in Americas, however as the easing of supply chain and capacity constraints continue, we translate more of the order book into revenue," says Reinhard Mayer.
Strategically important Service business demonstrates its potential
In Q2, the strategic priority Service-as-a-Business continued to develop in line with Business Plan 2026. To better drive the development of our service-led business model, the organization is structurally being set up to promote service-driven customer solutions. As a result, the contract attachment rate on new products increased to 10.4% in H2 2023, up from 8.9% in H2 2022.
CFO Reinhard Mayer explains:
"Our Service and Professional businesses performed well, benefiting from our continued strategic focus. The demand for our Floorcare products remained solid in Americas and APAC. We still experience some market slowdown, mainly in the EMEA region, where demand has softened."
In Q2, the impact of inflation and macroeconomic challenges continued to affect our results. Revenue for the consumer segment dropped from 23.1 mEUR to 20.9 mEUR. In particularly, the EMEA region continued to be impacted by a market slowdown, while Americas, and APAC recorded organic growth of 17.8% and 19.1% versus Q2 last year.
 
Nilfisk expects that the current macroeconomic uncertainty will continue in the second half of 2023, leading to some volume decline, particularly in the European market. The range for organic revenue growth is expected to be -2% to 2%. Negative organic growth for the full year of 2023 would require a worsening of current trading conditions. The range for the EBITDA margin before special items is expected to be 12% to 14%.
Key figures Q2 2023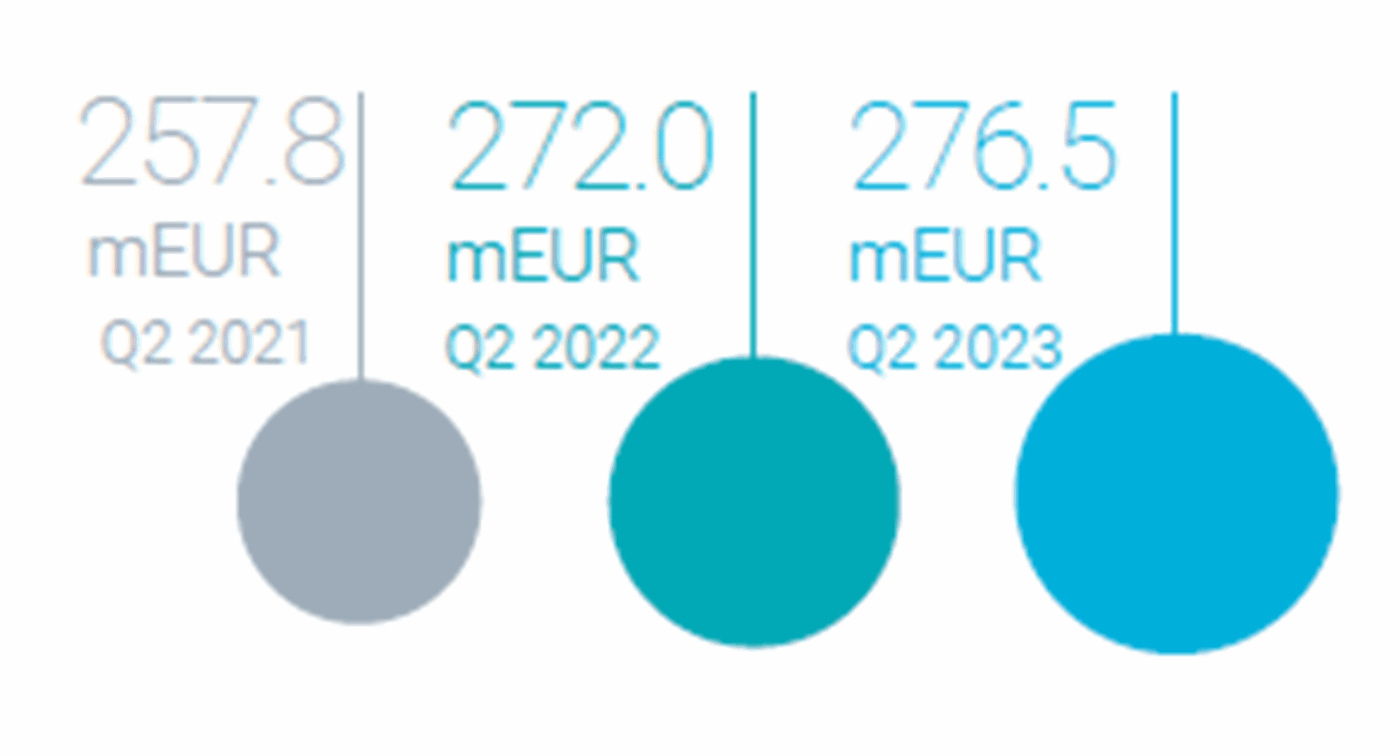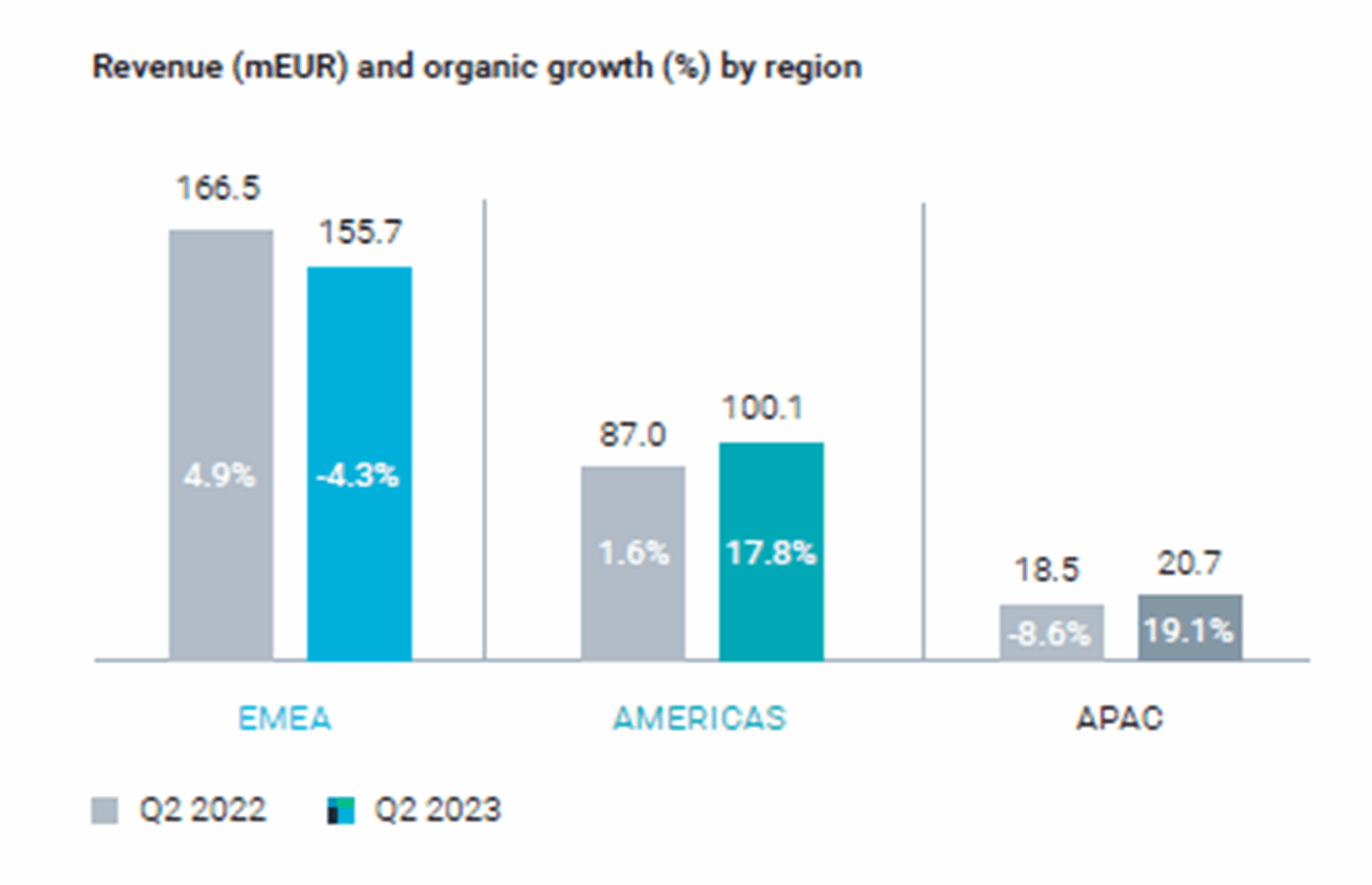 Press contact
Nynne Jespersen Lee
Head of Corporate Communication
T: +45 42310007
M: njespersen@nilfisk.com
About
Nilfisk was founded in 1906 by the Danish engineer P.A. Fisker. Today the company is a world-leading provider of professional and consumer floorcare equipment, vacuum cleaners, and high-pressure washers. More than 90 percent of sales target professionals, while the remaining 10 percent of the business is focused on consumers.
Nilfisk products and services are sold in more than 100 countries and produced at 9 manufacturing sites across the globe. Our main facilities are based in the U.S., Mexico, Hungary, Italy, and China. A total of 4,700 employees secured revenue of 1,069.5 mEUR in 2022. The largest single market is the U.S., covering 30% of revenue in 2022, followed by France (11%), Germany (10%), the U.K. (5%), and Denmark (4%).