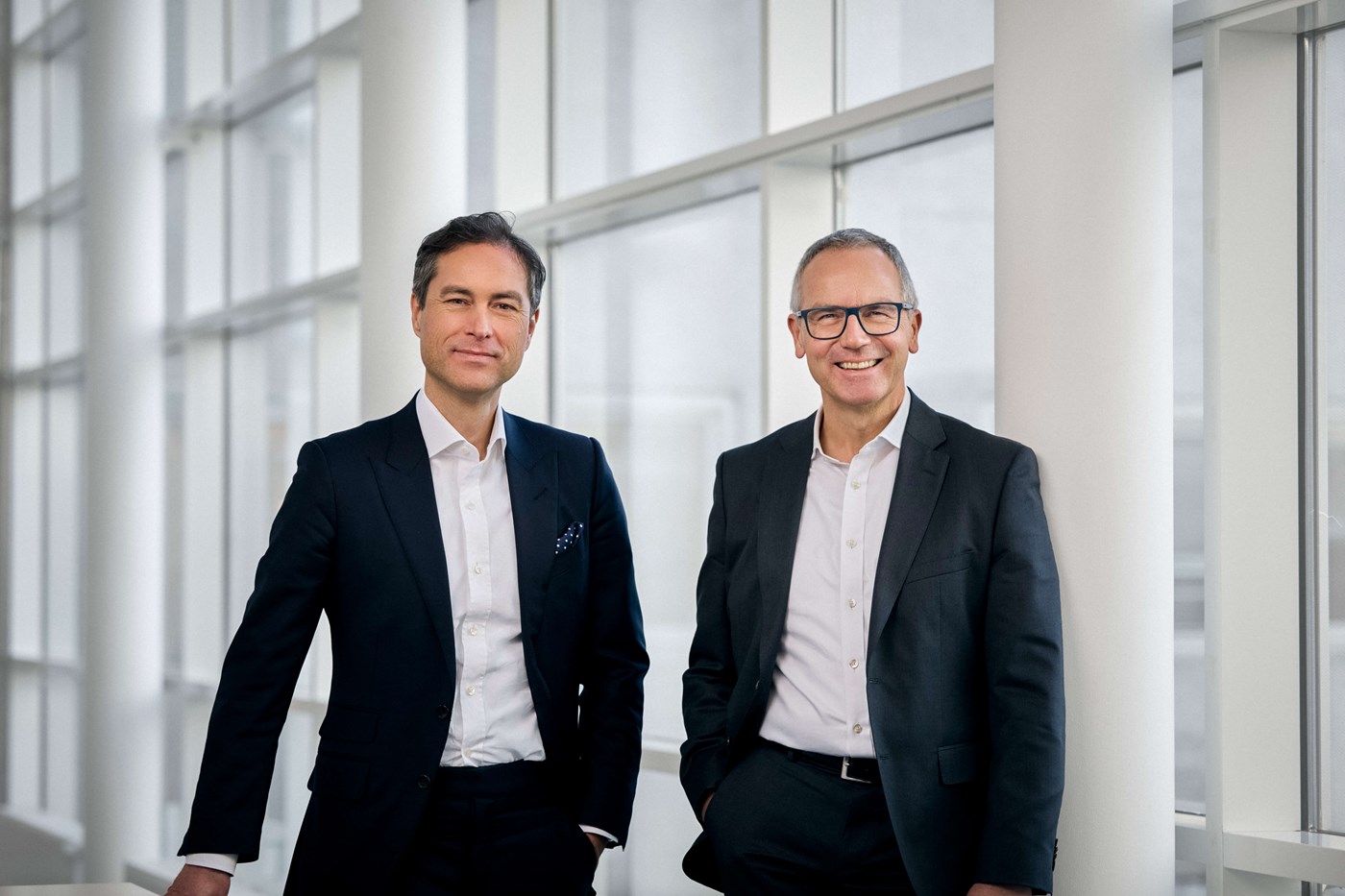 Nilfisk CEO Torsten Türling and CFO Reinhard Mayer
Organic revenue growth was 4.9%, primarily driven by 8.6% organic growth in the Branded Professional business. EBITDA before special items landed at 140.8 mEUR, the second highest in the company's history.
"With a strong Q4 result, we finished the year 2022 on a high note. In Q4, we achieved growth in our branded professional business across all regions, and EBITDA margin before special items recovered to 14.6%. We continued our journey towards long-term sustainable growth with a revenue of 1,069.5m EUR for the full-year 2022, the second year in a row of substantial revenue growth.", says CEO at Nilfisk Torsten Türling.
Growth across all regions
With organic growth of 12.5% the Americas region grew the most. This market has specific strategic importance for Nilfisk. Continued market share gains from strategic accounts and the dealer business drove good results in the Americas.
Organic growth in APAC was 4.6%, mainly driven by the southeast Asian markets and Australia, countering the negative impact of COVID-19 lockdowns in China.
In Europe, organic growth within the Branded Professional business was 6.7%. This was achieved across many markets despite a slowdown in the economy connected to macroeconomic challenges, the energy crisis and high inflation. Our pricing initiatives partly compensated for these challenges.
"Close to one year ago, we initiated our 5-year Business Plan 2026 to secure long-term sustainable growth. It has served us well in 2022, helping us weather several challenges. We countered the severe inflationary pressures increasingly well with our improved pricing practice. We achieved a double-digit organic revenue growth in our Americas region despite the disruption caused by a tornado destroying our US Distribution Center end of March 2022. And with Service-as-a-Business, we launched our new growth platform, which has already started to deliver the first results", says Torsten Türling.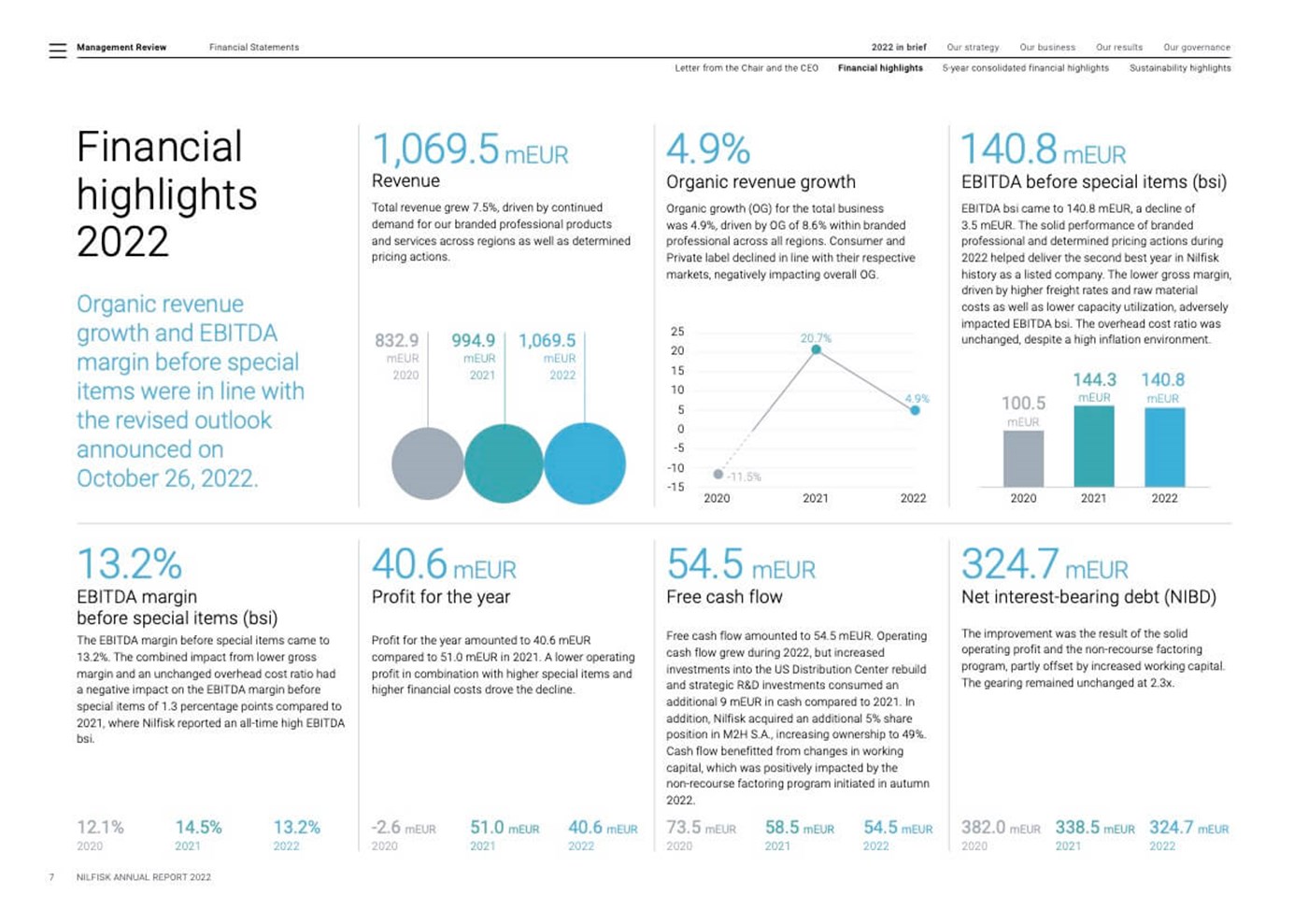 Decreasing consumer demand
Inflation and price increases have dominated the global headlines during 2022. Translating into declining consumer confidence, adversely affecting Nilfisk's Consumer and Private Label business.
Consumer and private-label products cover around 10% of Nilfisk's overall activities. It is still an integrated part of the Nilfisk history and brand, with our products globally acknowledged for high quality and functionality.
Following the global economic slowdown, the Consumer and Private Label business declined by 23.9 mEUR. The consumer segment revenue declined by 15.2% organically, while Private Label and others declined by 15.7%.
Sustainability commitment:
In 2022 sustainability became part of our Business Plan 2026. It is now integral to the business and Nilfisk's strategic direction. Our efforts were also awarded a Gold Medal by EcoVadis - one of the world's most trusted providers of business sustainability ratings. It means Nilfisk is among the top 5% of rated global companies and in the top 4% of our industry.
"I'm particularly proud that we have firmly integrated sustainability into our commercial and financial strategy. Demonstrating that sustainability will never be an add-on to Nilfisk. It's interlinked in everything we do, from how our employees operate to the value proposition to our customers", says Torsten Türling.
Outlook for 2023
For our outlook, we expect that the current macroeconomic uncertainty will continue into 2023, leading to some volume decline, particularly in the European market.
The range for organic revenue growth is expected to be -2% to 2%. This is supported by the full-year effects of pricing actions completed in 2022 and by a substantial order book at the end of the year. Negative organic growth would require a worsening of current trading conditions.
The range for the EBITDA margin bsi is expected to be 12% to 14%.
Given our ongoing initiatives and investments in structurally improving the business, our financial targets for 2026 are confirmed.
About
Nilfisk was founded in 1906 by the Danish engineer P.A. Fisker. Today the company is a world-leading provider of professional and consumer floorcare equipment, vacuum cleaners, and high-pressure washers. Around 90 per cent of sales target professionals, while the remaining 10 per cent of the business is focused on consumers.
Nilfisk products and services are sold in more than 100 countries and produced at nine manufacturing sites across the globe. Our main facilities are based in the U.S., Mexico, Hungary, Italy, and China. A total of 4,700 employees secured revenue of 1069.5 mEUR in 2022. The largest single market is the U.S., covering 30% of revenue in 2022, followed by France (11%), Germany (10%), the U.K. (5%), and Denmark (4%). 
Links:
Get the full Q4/Annual Report 2022 here.