In the just-published ESG report 'ESG100', Nilfisk achieves a 'B'-grade for the second consecutive year.
"We are, once again, pleased to be acknowledged for our work with ESG reporting. Our sustainability commitment is an integral part of Nilfisk's Business Strategy, and our ESG reporting is becoming more extensive and nuanced as we acknowledge that accurate data on our ESG performance is critical for investors and stakeholders", says Malene Thiele, Global Director, ESG & Sustainability.
ES100 is based on the most recent ESG reporting data from the top-100 listed companies in Denmark, Norway and Sweden The scale of the grading spans from 'A+' to 'F' and is graded according to the level of transparent and decision-relevant ESG disclosure. The Scandinavian version of the ESG100 report has been published twice, in 2022 and 2023.
Nilfisk is in the top 25 companies in Denmark on the list, which includes reputable companies like e.g., Vestas Wind Systems, Ørsted, Coloplast and DSV.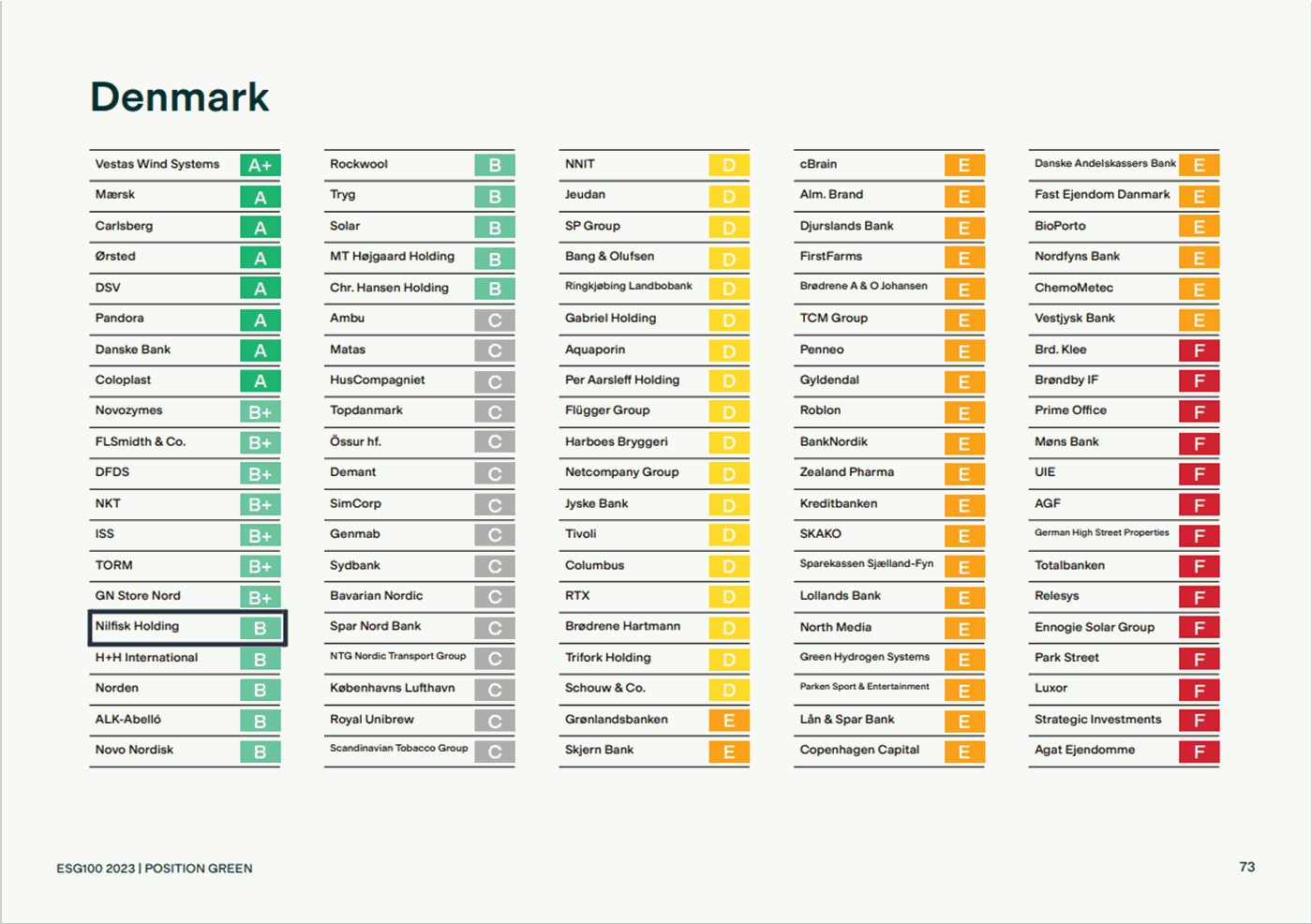 ESG reporting has become a significant parameter in nuanced corporate performance analysis, and the ESG100 report aims to raise awareness and increase the focus on best-practice ESG reporting. The report does not consider a company's ESG performance but solely the quality of one's ESG reporting.
The methodology, standards, and reporting criteria of ESG data accounted for in the ESG100 report are adjusted every year. In this way, the requirements for best-practice reporting, according to the ESG100 report, become more extensive each year.
Learn more about Nilfisk's ESG performance in our Sustainability Report 2022 
Find the full 2023 ESG100 report here
Press contact
Nynne Jespersen Lee
Head of Corporate Communication
T: +45 42310007
M: njespersen@nilfisk.com
About Nilfisk
Nilfisk was founded in 1906 by the Danish engineer P.A. Fisker. Today the company is a world-leading provider of professional and consumer floorcare equipment, vacuum cleaners, and high-pressure washers. More than 90 percent of sales target professionals, while the remaining 10 percent of the business is focused on consumers.
Nilfisk products and services are sold in more than 100 countries and produced at 9 manufacturing sites across the globe. Our main facilities are based in the U.S., Mexico, Hungary, Italy, and China. A total of 4,700 employees secured revenue of 1,069.5 mEUR in 2022. The largest single market is the U.S., covering 30% of revenue in 2022, followed by France (11%), Germany (10%), the U.K. (5%), and Denmark (4%).