ARTICLE
Improve your cleaning results with autonomous cleaning
How we clean is changing for the people who work to keep spaces like grocery stores, airports, schools, warehouses, and healthcare facilities clean and safe.
Professionals and cleaning crews need the right tools and equipment to enable them to clean efficiently, effectively, and safely.
That's why more institutions, hospitals, schools and businesses are welcoming autonomous scrubber dryers into their cleaning fleet.
Download our eBook
Robotics technology is transforming how we clean
Get information on how robots are helping businesses solve challenges while creating value. Fill in the form below and get started learning more about incorporating autonomous cleaning machines into your overall cleaning operation.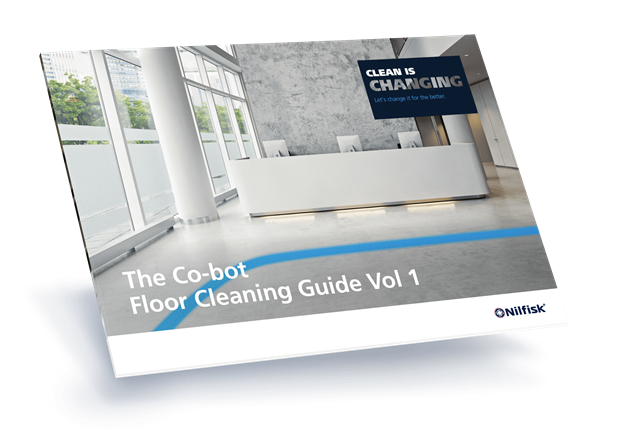 Benefits of autonomous cleaning solutions
How we clean is more important than ever. Autonomous cleaning delivers the best option for cleaning staff to perform these tasks efficiently, effectively, and safely.
Efficient cleaning
Cleaning the floor is a big job - even using a ride-on scrubber dryer can take several hours. When you put an autonomous machine on the job, you free up your cleaning team to address other important tasks like disinfecting door handles, light switches, restroom fixtures, and other high-touch surfaces.
Effective cleaning
Autonomous cleaning solutions can consistently deliver between 98-99.5% surface coverage. When operators use standard floor cleaning equipment, they typically miss about 15% of any given space. People aren't perfect. This is where autonomous cleaning solutions can be much more effective at ensuring that every surface is cleaned as thoroughly as possible.
Safe cleaning
Autonomous cleaning solutions can significantly reduce and may even eliminate the amount of time cleaning crews need to spend in areas where potentially harmful germs may be present. Simply enter your cleaning commands, and the machine will clean the desired route every time, without any human interaction needed. Autonomous cleaning machines also notify you when your machine needs assistance, ensuring that downtime is limited and performance is maximized.
Best practices for creating safer and cleaner areas autonomously
Ensure efficient, effective, safe cleaning with your autonomous machine.
Features to look for in an autonomous cleaning solution
Autonomous scrubber dryers are advanced pieces of equipment that use the latest robotics technology.
Here are the most important features to look for when evaluating autonomous machines to support cleaning for infection control:
1. Third-party safety certification
Autonomous cleaning machines are designed to operate in complex environments that contain people and other obstacles that could impact safety. Be sure your machine is third-party certified and meets applicable safety standards in your jurisdiction.
2. Easy, flexible path programming
Different autonomous solutions allow you to program cleaning paths in different
ways. To ensure a complete clean every time, choose a machine that can calculate and execute the optimal cleaning route to ensure maximum coverage and efficiency. Because the physical layout of the space to be cleaned may change, select a machine that allows operators to easily program a new path on their own, rather than by an engineer.
3. The ability to store multiple cleaning paths for the same area
Look for a machine that allows you to store and run multiple cleaning paths as you may need to clean some sections of the floor, like entryways and high-traffic areas,
more than others. This feature also makes machine operation more efficient if you have multiple operators cleaning the same area in shifts.
4. The ability to adjust the level of cleaning for different areas
Areas you need to clean more frequently may require more rigorous cleaning. Autonomous cleaning solutions allow you to program different settings such as chemical levels, down pressure, water flow, and suction for cleaning different
routes.
5. A system that lays down only clean water
You can't clean a floor with dirty water. Some autonomous solutions have onboard water filtration and recycling systems, which may not be effective in filtering out germs. Look for an autonomous solution that guarantees only clean water is dispensed onto the floor.
CLEAN IS CHANGING
Are you ready to embrace the change with us?
Visit our Clean Is Changing website to learn more and join us on the journey.