Get a customised solution for more effective production
The quality and safety of your operation must never be compromised, and material waste should be minimised in order to maximise profitability. With these goals in mind, Nilfisk provides tailored solutions for ensuring that your production fulfills the highest standards in pharmaceutical manufacturing, while also protecting your personnel from all applicable hazards. Get a full overview of our offerings and let us help you answer the world's medicinal needs with even greater effectiveness and efficiency.
MATERIAL CONVEYANCE
Move your capsules with zero risk
Our pneumatic conveyors move dry raw materials, such as powders and/or granules, into your processing machines and systems – either from one point to several, or vice versa – without segregation, thereby preserving their integrity and keeping component percentages intact. We often employ pushing systems that moves and transfers empty capsules of different sizes with zero damage; these capsules are emptied into collection containers and dispensed at an adjustable rate to the filling machinery. All of this occurs at quantities and times you specify, under perfectly hygienic conditions that respect both your work environment and personnel.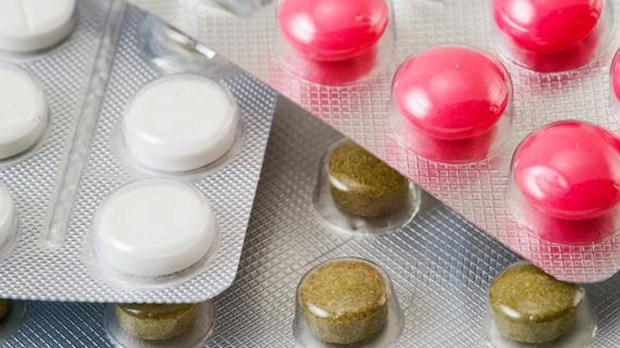 CLEAN-ROOM SANITATION
Zero contamination, maximum hygiene
The key factor when it comes to clean-room hygiene is absolutely elimination of contaminants across all surfaces with HEPA- or ULPA-filtration vacuums or even steam-based solutions, depending on the nature of contaminants needing controlled.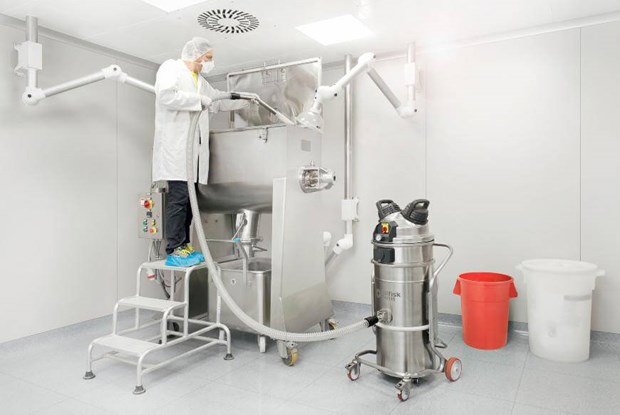 DUST CONTAINMENT
Safeguard products and people
Our dust-containment systems for high-potency APIs safely manage toxic or hazardous dust during solid-dose manufacturing processes, protecting your personnel, environment, and products. The recovery of APIs and HPAPIs requires specialized devices with features designed to protect the operator from possible contamination. Nilfisk has designed high-containment filtration units (up to OEBS-certified) for such applications, and they are available in several versions, both standard and highly customized.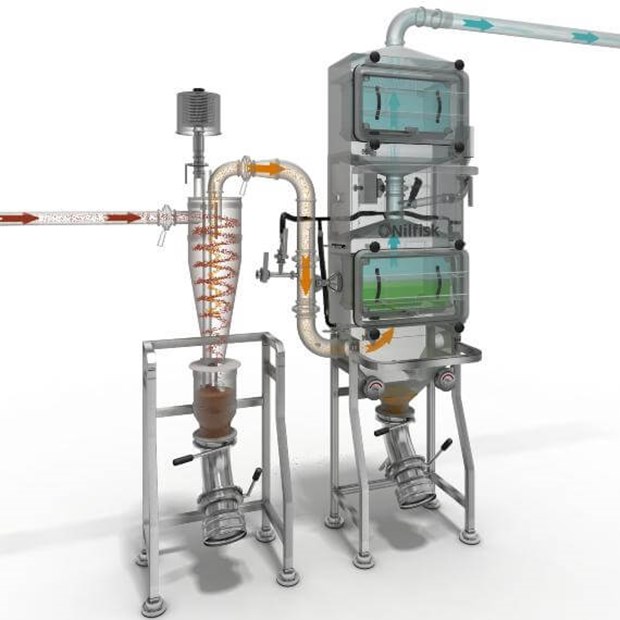 EQUIPMENT AND WORKSPACE CLEANING
Avoid cross-contamination securing top hygiene levels
Nilfisk supports your critical cleaning needs with the most comprehensive lineup of dedicated vacuum cleaners available. Our "White Line" vacuums are specifically designed to clean inside and outside of process machines, and are ideal for general work-area cleaning, as well. This range is GMP-compliant, easy to clean and sanitise, and are built smooth to prevent accumulation of dirt and other risks to hygiene. Available in even AISI316L steel, and equipped with specific filters for the recovery of very fine or toxic powders, these vacuums are the pharmaceutical industry's preferred solution for safe cleaning and containment.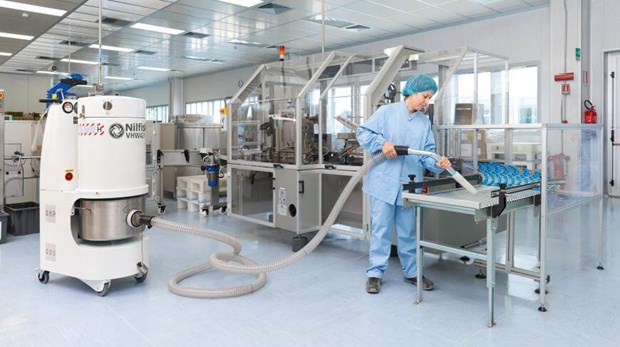 DUST RECOVERY FROM PROCESS MACHINERY
Maintain product integrity and equipment performance
Vacuuming is an integral part of the medicine-production process, with automatic machines requiring constant suction in order to prevent residual dust-contamination, or release of dust into the production environment. Because filtration is so crucial to success in fixed-vacuuming applications, Nilfisk vacuums are equipped with HEPA- or  ULPA-certified filters, to help maintain a safe, pure, and effective manufacturing process. They are available in stationary or mobile variants, including cleanroom-compliant and explosion-proof designs, providing the means to ensure quality while upholding stringent safety standards.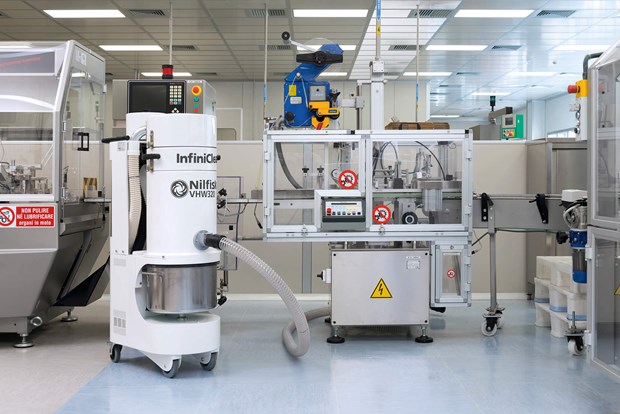 PACKAGE-SCRAP RECOVERY
Improve productivity and avoid downtime
A Nilfisk R-series industrial vacuum is designed specifically for packaging applications, eliminating interruptions normally required for cleaning of cutting machines. The trim-extractor simply collects the waste continuously while your machine is running.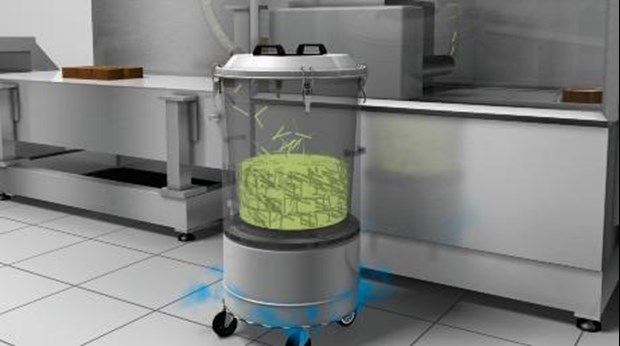 FLOORCARE
Keep spaces contaminant-free and ready for traffic
Maintaining the highest standards of floor hygiene prevents dirt from entering your production areas, and is critical to ensuring product quality and safety. A walk-behind scrubber dryer offers comfortable productivity in a compact, easy-to-use design, deep-cleaning and drying floors in a single pass – even in smaller or congested areas – while EcoflexTM technology allows for temporary increases in water and detergent dosage during more aggressive cleaning tasks.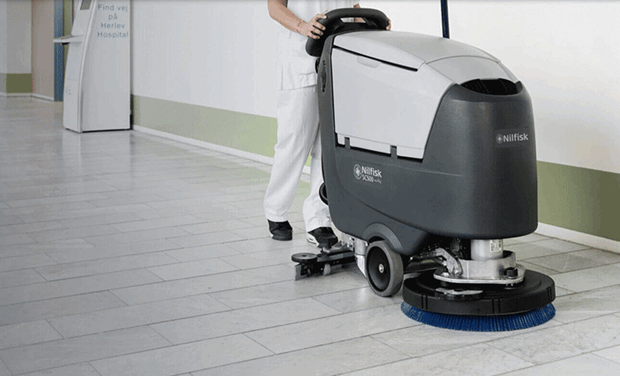 Equipment and Vehicle Washing
Improve lifetime and transportation conditions
Our high-pressure washers help maintain any kind of equipment using either hot or cold water, and can cope with the toughest challenges and environments. You can trust them to provide exemplary performance in a wide range of settings, including pharmaceutical-production environments. They are ideal for cleaning containers and bins used during production processes, and for washing trucks or other vehicles employed in transport.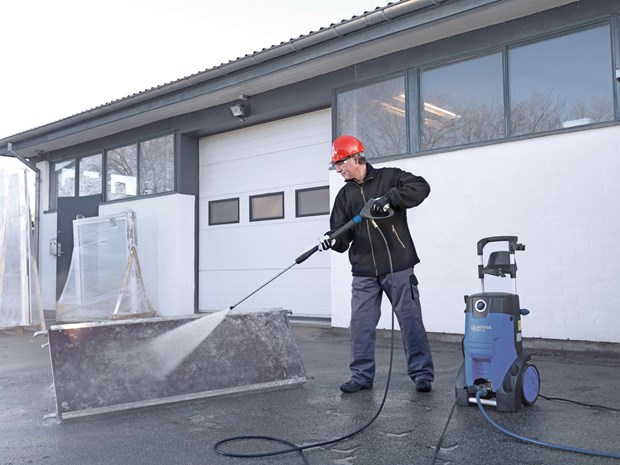 Improving cleanliness for over 100 years
Nilfisk floor and surface cleaning equipment is designed to make facilities more sanitary and cleaning practices more productive. Our environmentally-sound cleaning solutions improve cleanliness with fewer chemicals and less labour, and boost comfort and the overall experience within facilities. Quick and efficient cleaning solutions that will enhance your reputation and productivity are all part of our commitment to provide you with superior value, reliability and efficiency in everything we make and everything we do.