Provide spaces where thinkers can thrive
Clean schools have a measurably positive impact on the well-being and success of staff and students alike. From high-traffic corridors to busy classrooms, and from catering areas to sports facilities, safety and productivity are easier to maintain – without compromising on the quality of your results, the reliability of your equipment, or the operating efficiency of your cleaning staff. Take a look at our extensive solutions for safeguarding the minds that matter most.
NURSERY TO HIGHER EDUCATION
SCHOOL KITCHENS AND CANTEENS
Clever cleaning
Clean, dust-free environments help create pleasant learning conditions that can improve student productivity.
Nilfisk products improve the cleanliness of all types of education facilities, including classrooms, workshops, libraries, auditoriums, kitchens, sports facilities, and paved areas.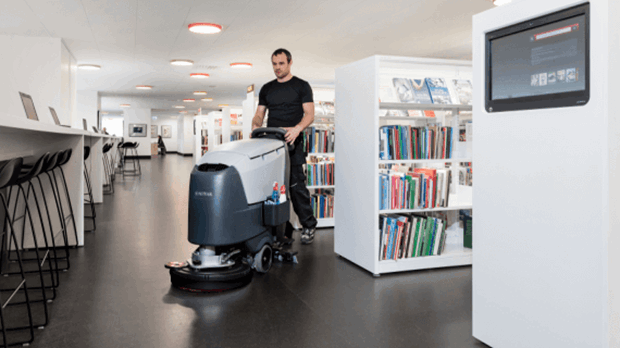 Cleaner classrooms, workshops, libraries, and auditoriums
With heavy foot traffic from students for many hours every day, continuous daytime cleaning may be essential. Innovative technologies and easy operation make our automatic scrubbers, burnishers, vacuums, and carpet extractors quieter, more effective, and more efficient.
Floors are cleaner and safer, with fewer chemicals and detergents used, and air quality is improved for both students and staff. Nilfisk products are designed to clean in confined areas, under furniture, and as quietly as possible for minimal disruption.
In workshops employing wood or metal, students can be exposed to potentially harmful dusts, so Nilfisk also offers expert advice and a range of industrial-vacuuming solutions to protect health and safety.
Cleaner kitchens and canteens
When preparing food for a multitude of students and staff members every day, it's important to maintain an excellent hygienic standard in your kitchen and canteen.
The Nilfisk scrubber dryer portfolio includes models that can offer both forward and backward scrubbing and drying, along with the ability to clean in narrow areas with greater productivity than manual methods. Our Wet & Dry vacuum portfolio can be used for both application types without requiring filter changes.
Cleaner indoor sports facilities
Areas of different sizes, with different floor types, require flexible cleaning solutions.
Whether you choose a walk-behind or ride-on scrubber dryer, Nilfisk's EcoflexTM chemical-dosing system ensures that every floor – whether it's a light-traffic space or a heavily soiled one – is cleaned in the most environmentally friendly, cost-effective manner.
Improving cleanliness for over 100 years
Nilfisk floor and surface cleaning equipment is designed to make facilities more sanitary and cleaning practices more productive. Our environmentally-sound cleaning solutions improve cleanliness with fewer chemicals and less labour, and boost comfort and the overall experience within facilities. Quick and efficient cleaning solutions that will enhance your reputation and productivity are all part of our commitment to provide you with superior value, reliability and efficiency in everything we make and everything we do.