A Full Line of Defense Against Combustible Dust
Nilfisk delivers a full line of industrial vacuums designed to meet NFPA 652 housekeeping requirements for collecting combustible dust in Class I, Group D and Class II, Groups E, F & G or non-classified environments. Our pneumatic vacuums also meet the requirements for safe use in hazardous environments. Nilfisk advanced filtration technology safely captures combustible materials dispersed in your plant - everything from fuels, solvents and metal dust to flour, sugar and pharmaceutical powders.
The Right Vacuums for All Your Needs
Most manufacturing facilities face multiple cleaning challenges. That's why Nilfisk offers free site assessments. A walk-through of your facility will help us identify where different cleaning methods or equipment could help you prevent safety hazards and remain in compliance with regulatory standards. We ask the right questions to thoroughly understand your cleaning challenges and then recommend the right vacuums for your specific needs. Then you can "test drive" the vacuums with handy on-site product demos.
Advanced, Multi-Stage Filtration
For peak safety and operating efficiency, we design Nilfisk explosion-proof vacuums with multi-stage, graduated filtration systems. A series of progressively finer antistatic filters trap and retain particles as they move through the vacuum. This protects the filters and helps extend the life of the vacuum. Upstream or downstream HEPA or downstream ULPA filters can be positioned after the motor to filter exhaust streams. Quality HEPA filters trap and retain the smallest dust particles.
Take Action Against Combustible Dust
There are several steps you can take right away to reduce the risk of dangerous incidents at your facility and stay compliant with combustible dust requirements. We created this guide to help you take action.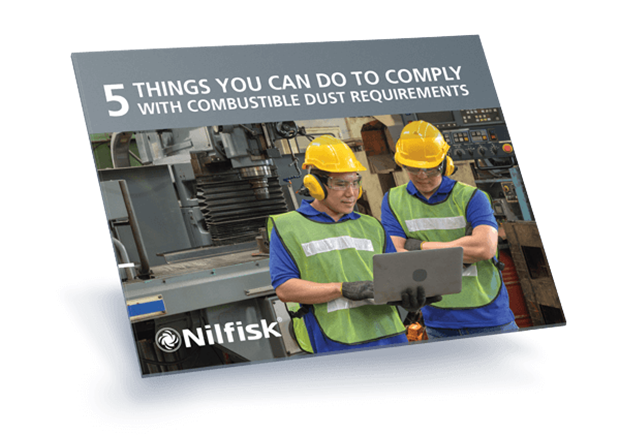 Get a Free Site Assessment
Getting a free site assessment from a NIlfisk expert
How does the process work?
Once you book to request your free site assessment, an expert will get in touch with you to schedule a meeting.
STEP 1: Understanding your need. A Nilfisk expert will walk through every element of your cleaning process to prepare the right package for your site visit.


STEP 2: Scheduling the visit. A Nilfisk expert will set-up a time to conduct a thorough site visit at your convenience.


STEP 3: Seeing the solution in action! A Nilfisk expert will ensure your cleaning machines are up and in working order.
Corporate Social Responsibility
More Sustainable, Less Costly
As budgets shrink, schools are continually tasked with doing more with less. At the same time, many districts are adopting green cleaning initiatives to create a healthier learning environment and reduce their environmental impact.
Nilfisk's floor care and cleaning equipment features industry-leading technologies to support your sustainability efforts while also reducing cleaning costs.
• EcoFlex™ is a cutting-edge green-cleaning technology that reduces chemical and water use with the touch of a button.
• REV™ Random Orbital Scrubbing Technology is a patented floor scrubbing system that allows you to remove the old floor finish in a single pass using just tap water — no chemicals required.
• Quiet Mode™ allows operators to quickly and easily reduce noise levels for daytime cleaning and cleaning in noise-sensitive environments.