For many of our warehousing partners, the changes brought by COVID-19 mean more business and less time for critical cleaning. Nilfisk can help leverage new opportunities for maintaining your standard of clean in high-traffic work environments, support unprecedented levels of productivity and staff safety.
As your partner, Nilfisk can help define tailored, floor-to-ceiling solutions that are intuitive, easy to service, and built to achieve superior results – because we know what it takes to thrive in the new normal.
Boost your safety, productivity, and quality by keeping your warehouse clean
A clean warehouse promotes higher productivity and operational efficiency, while a dirty one can create slowdowns and delays.
Main benefits of a clean warehouse:
Keeping workers safe and healthy. 

Many workplace injuries (and workers' compensation claims) are due to slip-and-fall accidents caused by slippery, unclean floors. Dust can also be inhaled, leading to allergies and lung disease. Clean floors minimize these risks and help you achieve OSHA compliance.

Ensuring product quality. 

In some facilities, such as food manufacturing warehouses or electronics distribution centers, dust and grime can impact product quality. Regular cleaning helps you ensure the quality of the parts, equipment, merchandise, and products you're storing and transporting.
Innovative technologies for exceptional cleaning results
Nilfisk's floor cleaning equipment features industry-leading technologies that boost productivity and deliver consistent results.
EcoFlex™

 

is a cutting-edge green-cleaning technology that reduces chemical and water use with the touch of a button.

DustGuard™ 

is a must in environments where hazardous dusts are present. Available on industrial floor sweepers, DustGuard suppresses dust at the side brooms, ensuring that everything in the sweeper's path is swept directly into the hopper.

TrackClean™

 

puts transparency and profitability at your fingertips by giving you 24/7 access to vital operational data on your floor cleaning equipment.
MaxAccess™ offers industry-best accessibility to critical components for expedited service and maintenance.
One-Touch™ 

simplifies user operation and minimizes training requirements by putting all cleaning and operational functions at the user's fingertips.
KEEPING THE PATH CLEAR FOR SAFE BUSINESS
READ THE LATEST CLEANING TRENDS FOR WAREHOUSING & LOGISTICS
Gain insight into the evolution of professional cleaning for businesses like yours – and learn how you can keep your operation smoother, safer, and more efficient in the new normal. Our latest trends article helps take the guesswork out of establishing a future-proof cleaning program.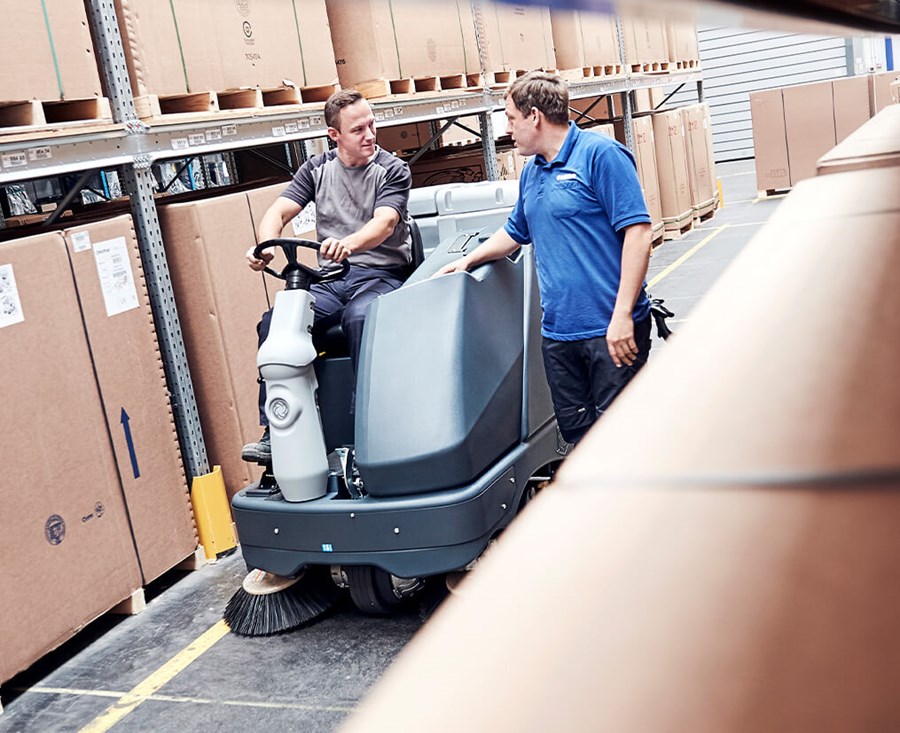 BOOK A CALL WITH A NILFISK EXPERT
Whether you're ready for a facility-wide assessment, or just looking for advice on an individual aspect of your cleaning program, a Nilfisk representative is ready to help. Book a call today, and we'll help you identify the right opportunities for maximum efficiency of your cleaning. 
Download Infographic
ADVICE FOR YOUR CLEANING SUCCESS
How can you elevate your cleaning performance?
View our new infographic for tips.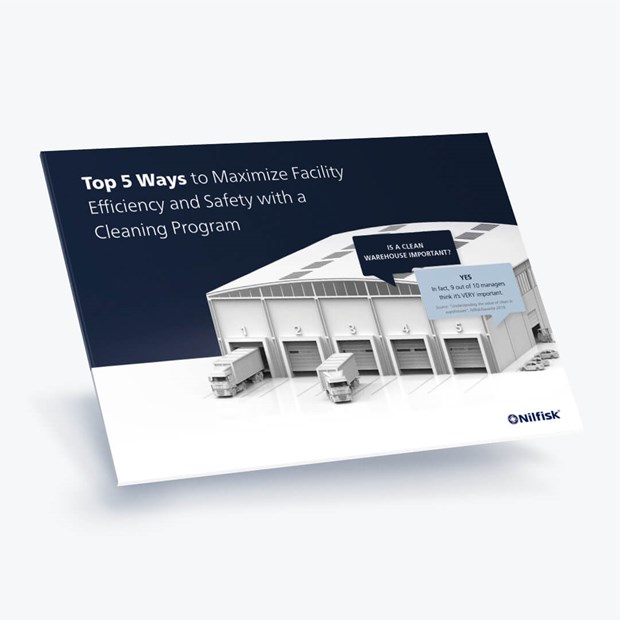 Free on-demand operator training
Employee turnover in the warehousing industry is high, and many facilities don't have dedicated cleaning staff. This makes keeping operator skills up-to-date a challenge.
That's why at Nilfisk, we offer free on-demand training via Nilfisk University, the cleaning equipment industry's most comprehensive web-based training and interactive learning resource. This one-of-a-kind program is available 24/7 via an online portal or an app that can be downloaded to a smartphone or tablet.
Equipment, service and support with the flexibility you need
Keeping your facility clean doesn't require a huge capital expenditure. Nilfisk's flexible financing options provide equipment, service and support at one low fixed monthly cost.
Lowers your total cost of cleaning via access to:
Brand new cleaning equipment from the industry's most comprehensive and technologically advanced portfolio

Regular service and maintenance by factory-trained technicians

Analysis and detailed insights for informed decision making about your cleaning operations

And much more