Nilfisk Reconditioned Professional Equipment
Nilfisk reconditioned products adhere to our best-in-class quality and performance standards to help you get the job done. We carefully examine each machine against these standards, streamline packaging components, and make them available to you at unbeatable prices. Pricing shown excludes freight – quotes available upon request. Battery operated equipment may include original batteries – batteries are sold as-is unless otherwise noted.
Discover our range below.
Nilfisk SC351 Scrubber Dryer
Category: Floor Care
Price: $3,950 + GST
Serial Number: 3510184900142
Power Source: Battery
Compact design with foldable handle for storage
Adjustable dual settings & rotating deck
Pad Driver or Prolene Brush available
Condition Classification:  A  (AS NEW)
Hours: Near new
Condition: as new
Minimal hours of use
Warranty: 12 Months
Located:  Sydney, NSW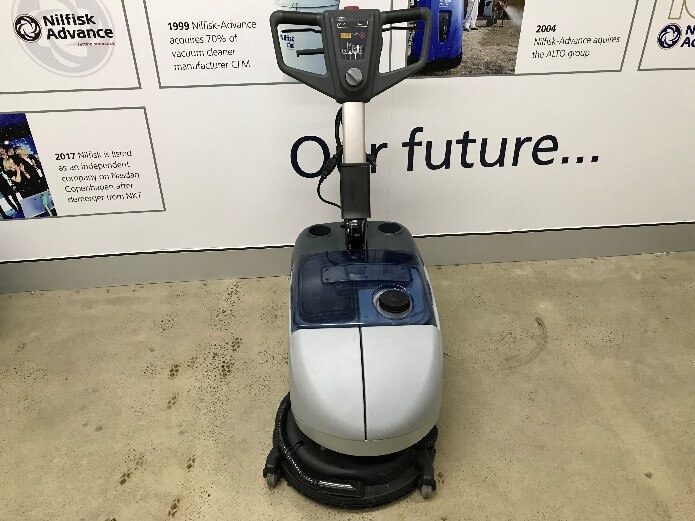 Nilfisk SC351 Scrubber Dryer
Category: Floor Care
Price: $3,950 + GST
Serial Number: 3510192400201
Power Source: Battery
Compact design with foldable handle for storage
Adjustable dual settings & rotating deck
New squeegee and pad/brush
Condition Classification:  A
Hours: Near new
Condition: as new
Minimal hours of use
Warranty: 12 Months
Located:  Sydney, NSW
Nilfisk SC351 Scrubber Dryer
Category: Floor Care
Price: $3,950 + GST
Serial Number: 3510194200289
Power Source: Battery
Compact design with foldable handle for storage
Adjustable dual settings & rotating deck
New squeegee and pad/brush
Condition Classification:  A
Hours: Near new
Condition: as new
Minimal hours of use
Warranty: 12 Months
Located:  Sydney, NSW